Around christmas time I remembered seeing a commercial for a new product, the LeapPad2 Explorer Learning Tablet. It is an upgrade from the original LeapPad Explorer Learning Tablet. Apparently I'm out of the loop because I wasn't even aware of the first LeapPad tablet. My daughter loves to read and I never thought I would buy into one of these electronics for my toddler. I stand behind the statement that when the toy does less, the child does more. In fact, one thing I vowed before having children was no electronics like this until they were at least 12. This was after seeing my niece spoiled with the latest gadgets. Every time something new came out she would get it – this child has 3 versions of Nintendo DS.
We were recently planning a vacation in which we would be stopping in 3 different states. One leg of the trip consisted of an 8-hour drive. Now, we have a nice variety of kid-friendly CDs but I knew after a certain point we would quickly become tired of them. I had a few ideas for the car ride to keep her occupied, but I knew after awhile she would become tired of them (and so would we). Anyway, for several reasons including this trip I thought it might be time to give in and buy this product. So here's my LeapPad2 Explorer Learning Tablet review.
My Review of LeapPad2
There were several key features I saw with this LeapPad2 that I found really neat. I justified my purchase of the electronic in that it could help with homeschooling my preschooler! My niece is currently in a school where books are hardly used anymore and now all work is done on computers so the way I see it, I'm just keeping up with the times. This is far more than just a game for kids.
Features
First, let me start by saying that LeapPad is put out by LeapFrog and has received numerous awards. We have a few other LeapFrog products and I haven't been the least bit disappointed yet. Here are some of the features found on this tablet:
Inspires skills for reading, art, music, science, geography, math, health, language and culture just to name a few.
High quality educational content
Can be used with cartridges or apps with 5 included for free with purchase
Front and back camera for taking pictures or videos
Encourages learning through play with ebooks, challenges reading levels, and inspires creativity
Ideal for kids ages 3-9 years
Writing activities can be adjusted for left-handed kids
There is also a similar tablet by Vtech called the Innotab which is a little bit cheaper that I had also considered while looking; however the LeapPad had far more reviews and a higher rating so I chose it over the other option. I've also found a video that compares the two side by side which furthermore persuaded me to buy it.
There's a lot to go over with this tablet. For one, my daughter loves taking pictures with my iPhone and she's quite good at it for a 4 year old. This lets her take snapshots of family and video recording. It has 4GB of memory so it can really hold a lot of storage from apps to photos and videos. You can also create stories using the saved photos or drawings.
The LeapPad is much more responsive than any other child tablets we've tested.
Apps
The tablet comes with 5 free apps that you download onto your computer and upload to the tablet. They are Pet Pad Writing App which lets her create a virtual pet that she can feed and bathe and teach tricks. When she traces her letters it teaches the pet a new trick to encourage her to learn. It also puts the letters she traces together to form words. There's also a learning songs app, a cartoon creativity app, art studio app, and a free app download.
For our free app, I chose an ebook. It's really neat because it plays the story with interactive games – for instance the one she has is about music so she can press different instruments and it plays their sound. It also lets you 'turn pages' as with a real book. You can adjust the volume using the buttons on the front and there is also a place to hook up headphones so if you're in a vehicle you can let them tune in without having to hear it!  😉
Learning
I originally bought this for its incredible learning capabilities. LeapFrog is a well-known brand in products that help children read but this one does so much more than that. Right now we're working on our phonics. The tablet uses stories with text that when touched sound out the words. We also downloaded the *Alphabet Stew game which aids in teaching spelling. A cool feature is that it can also be set for lefties where it flips the screen to make it easier for writing.
One factor upon my decision to buying this was the value. The MSRP on this tablet is $99 although Amazon has it a good deal cheaper. I normally would not see myself paying this much for a simple toy that she would use for a few weeks then forget about. However, this tablet has game cartridges and apps for different ages that meets your child's learning level at different stages so it can grow with them. I also purchased the carrying case to try and  keep it in top condition.
Other Specifications
Here are just a few other details about the tablet:
Requires 4 AA batteries
Includes a USB cable to hook up to computer
Can run on AC power with adapter which is sold separately
Touch screen or use the stylus pen that is included
Tracks child's achievements to see their strengths and skills that need improvement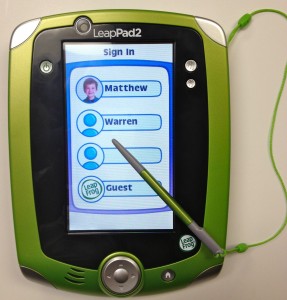 Additional qualities I would like to point out is that the LeapPad's stylus pen has a string on it to keep it attached and features a convenient slot for storing it. You have the option of using the touch screen or the stylus pen, but the pen works better and I really like that she won't lose it. The back features a child-proof battery cover to minimize your toddler from messing with the batteries. It can also be easily shared with other siblings as it allows you to set up to 4 different profiles, so in a couple of years when our son is old enough (considering it's still in fine working condition) he can also play with it using his own profile.
I think this is a really nice and fun learning tool for kids to have. Although I still advise limiting a child's time with it. While it does help in teaching them reading and writing skills it still doesn't take the place of having them write out with an actual pencil. My daughter gets to have it for 1 hour where we do learning activities for 30 minutes and then she can play games, draw, take pictures, or whatever she wants to do for the remainder of her time with it. It seems pretty durable, although I wouldn't want to test it out by dropping it so I always have her use it while sitting. We also purchased the screen protectors to help keep it from getting scratched.
What Others Had to Say
Well, there's my take on it but if you're wanting to hear what other moms thought about it here are some reviews mentioned by people who have also bought it. These reviews were paraphrased for your convenience. You can see the complete reviews on Amazon.
"My son just turned 3 and loves it. Great improvement over the original."
"If you want a child-friendly tablet-style device this is the best one on the market. LeapPad is more rugged and more child-friendly compared to iPad, iPod, or Android Tablet."
"There is lots of audio help which is great for our 3 year old grandson as he can't read yet."
"Love the LeapPad 2, except the battery compartment. The batteries don't fit tightly inside the compartment."
I never had an issue with the batteries on ours and I'm guessing that as long as you have the covers correctly snapped in this shouldn't be a concern. One negative aspect I will note is that I expected the apps to be a bit cheaper. Some apps are as much as $25! She has enough games and learning activities to keep her entertained for now so for christmas we will ask relatives for the game cartridges that can be bought in the store.
*I mentioned the Alphabet Stew game that I had downloaded. This was a free game I downloaded using a code I had found on the Internet which I'll share with you if you do purchase one. These codes are compatible with LeapPad Explorer and the LeapPad2 (not sure about the new Power tablet)
*Alphabet  Stew Game – Teaches the alphabets, word building, spelling, and short vowel sounds. It is 2MB. Enter code 5813-0790-4610-4973 under bonus code or Redeem Codes when you visit the app center at LeapFrog.
The Book of Super Awesome Stuff – this is for an ebook. Enter code 5813-1140-1518-1413 under bonus code or Redeem codes.
I will also add that Amazon should offer a bundle that includes the accessories with it like the wall charger and the headphones, which have to be purchased separately. I've seen now that there is yet another upgrade to the LeapPad2 which is the Power tablet that includes rechargeable batteries. As usual, as soon as you buy something they come out with something better.
Overall, I think this is really neat product. I recently discussed it with a friend who had also been contemplating getting one for her son or a regular tablet. I must say this is far better as children don't have access to the Internet and can not purchase games or music on it like with other smart devices. It is very kid-friendly, an easy-to-use interface for children (and adults who aren't very tech savvy) and definitely worth the price we paid for it. Based on my experience I would highly recommend this product, which would make a nice christmas gift or birthday present.