There are so many different kinds of educational baby DVDs on the market that are designed to help engage your baby's attention and stimulate their mental development. While I certainly don't encourage sitting your baby in front of a TV all day, there are those times when you need a break whether it's to take a quick shower or taking care of a few chores. I have a few different types of learning movies including Leap Frog series, but my favorite is the Baby Einstein series. I actually have several different products by Baby Einstein because it's a really great brand of quality toys and learning activities for babies. If you are looking to have a few movies on hand for occupying your little one from time to time then read on the check out my Baby Einstein DVD review.
About Baby Einstein
Before I go into my review, let me give you a little information about these DVDs that I find sets them apart from other similar videos. These products are specifically tailored to meet your baby's perspective from real-life images to classical music that is uniquely orchestrated for babies. Their products are designed to go hand-in-hand with the parent's interaction for optimal development and include you as a fundamental component in entertaining your baby.
Baby Einstein Discovery Kit
Let me start by saying that this Baby Einstein dvd review only covers the individual dvds that come in discovery kits, not the full series. You can purchase all of the DVDs and kits together in packages but I found this to be a bit much for my needs. Baby's screen time should be limited, which is why the DVDs are only 30 minutes long, so you really don't need to own the entire collection. Their line of baby products have a numbering system to suit your child's age from newborn to 18 months.
Baby Beethoven Discovery Kit

The Baby Beethoven set is a learning level 1 for experience (around 3 months), suitable for younger babies with soothing sounds. This discovery kit comes with the DVD, a music CD, and a mini book with pictures from the video that you can look at with your baby. The video plays classical music with real images. The sound of the music and the bright colors easily grab their attention as they focus on what they're watching. These aren't like traditional baby shows. There is no dialogue among characters, rather it's just different images and short puppet shows. They also show other babies and children on the video which, as many babies do, made my little ones smile as they always liked seeing other babies.
The music CD is great to play in the car or for quiet time. We have many audio CDs of traditional nursery rhymes and lullabies which gets pretty old after listening to them for a while. I find listening to the acoustics of the classical music much more tolerable on a daily basis. As for the book, it's history now as it has been the teething toy of choice but it's cute. It is the perfect size for little hands to grasp and both of my little ones enjoyed looking at it.
What Others Thought
My kids are a little older now and moving up in the learning levels so to offer more perspective from other parents with babies of the same age here are reviews based on their experience.
My very active baby will sit and watch the entire 30 minute show without moving, which gives me a nice break from trying to keep up with her crawling everywhere! 
My four month old loves baby einstein videos. Every time I put it on he is mesmerized by the show.
Baby Einstein: Wild Safari Discovery Kit

I had this for my daughter and still use it with our son and they both love it! The Wild Safari Discovery Kit is a learning level 2: explore, for babies who are learning from their surroundings (6 months). It comes with the DVD, a music CD, and flash cards. The DVD is much like the first one we have with classic music playing to different scenes with images of real animals and mini shows with puppets. The flash cards are really what helped them tie into the video as they became familiar with them. The cards are very vividly colored – they look more like actual professional photos. Each card has facts about the animal on the back, which makes them great for growing with your baby. While my son may not quite understand the facts just yet he enjoys looking at the cards and my 4 year old is fascinated by the things she learns about each animal when I read the facts.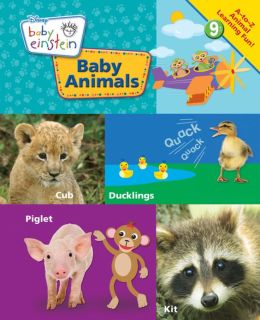 In my opinion this discovery kit is a really great educational resource for growing babies. We also have the Baby Animals book too that we look at with them. We point to the pictures of the animals and ask them what sound that particular animal makes. What I love about the book is that there are so many different things to look at on each page so it's not like those that take 5 seconds to look at then you're done.
What Others Thought
Here are some of the reviews other parents had to say about this discovery kit based on their experiences:
My son loves the books or flash cards that come with the Discovery kit, and I love watching the joy that he gets from this great learning experience. The CD's are absolutly great for in the car.
We watch it together and talk about the animals and the sounds they make.
To conclude my Baby Einstein DVD review, I would highly recommend these Discovery kits as well as the books and other learning products by the brand. They are designed as learning tools that entertain babies and encourage young minds to develop. What's funny is that some of the reviews I've read regarding the DVDs is how some parents say the videos seem meaningless, but that's because it's not meant to be a sole source of entertainment like the traditional shows and cartoons. They are supposed to be accompanied with the parent's interaction.
I've recently worked in child care and it's amazing how the babies we work with are just mesmerized by what they see. In addition we follow along with the DVD – for instance, there's one that highlights different parts of the face so we'll point to our eyes, ears, nose, etc and engage with them as they watch it. I also find that even though they have recommended learning levels, these are great for growing with your baby, especially the kits with the books or flash cards because your child will continue to learn as they understand more. I can see why other parents love the DVDs so much. They're ideal for learning and very well thought out as to encourage parents to socialize with baby and not use the TV as a 'babysitter' but as a source for encouraging development.